Dear PiezoDN and Piezography Pro (ink) customers. Here is a pre-release "gold master" PiezoDN curve for the Pro inkset for all 8 channel x8xx (K3, K3v) printers.
Note, this master curve is for UV process currently. Mileage may vary for silver, but test it anyway.
x8xx-PiezoDN-Pro-Master.quad (8.1 KB)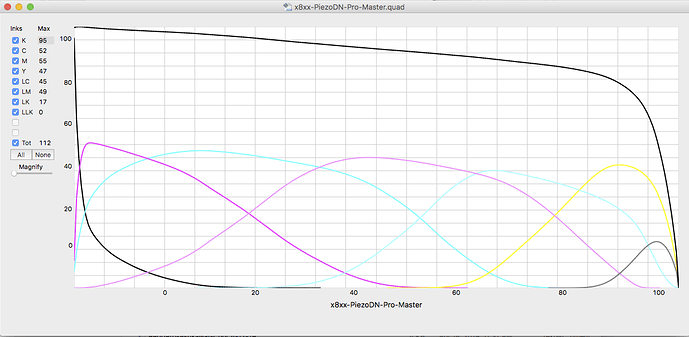 I'm really happy with this curve and it's proving to be equal and almost better than the K7 selenium PiezoDN base curves. What is unique about this curve structure is that it utilizes the higher UV blocking of the warm inks (M, LM, Y channels) vs the less UV block of the cool inks (C, LC, LK). Pro inks (which have nearly equal paper Luminance values in Dark, Medium, and Light) actually function much more like K7 inks in the UV-process world allowing for a more even spread and less noise.
Over the coming weeks I will update the full curve roster for Pro. If anyone has a pro set and wants to send me printed targets (exact size as the target uploaded) for their various printing processes, I would be more than happy to take them. I do not have the time to bust out every process under the sun myself but if you send me a target I'll make a custom calibration and also publish that for all PiezoDN customers.
Piezography-700step-DTP70.tif.zip (1.4 MB)
Also of note, this curve (should) work on non-ultra Pictorico (and Fixxons) film, please test.
best,
Walker