Seemingly out of the blue, text that I'm printing on the negative is not printing properly. As show in the scan of the negative below, it appears that one ink color is spraying the text letters on multiple passes between the image and the text's intended location (over a width of about 5/16"). The intended text is located about 1" from the negative's trailing edge in the printer. No head contact with the film was evident during printing. Prior to observing this defect I had unloaded and reloaded several ink cartridges and refilled one cartridge. At no time did I touch the printhead. The same defect was evident during a second printing (repeatable?) but not on negatives printed prior to the cartridges interactions.

I'm printing on Pictorico Ultra Premium OHP with P2 inks in a 3880 using Print Tool 2.1.1 on a Mac with OS 10.15.2. As shown in the print tool dialog screen shot, the text layer is on top of the image and black background layers. The text color is white.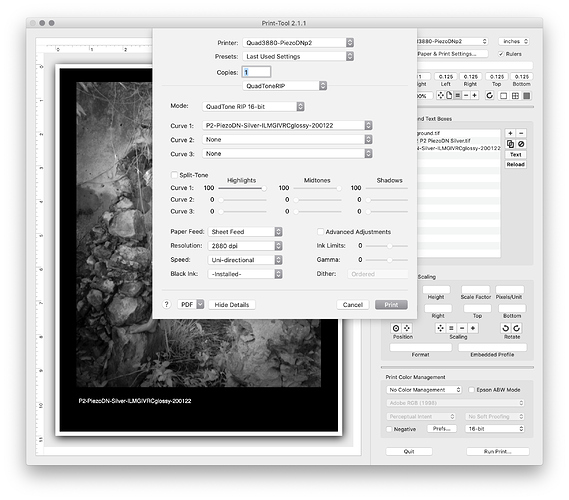 Has anyone experienced this issue? Any insights? Thank you.