Hi Walker,
This is a two part question.
I wanted to double check that my PiezoDN QTR settings using Pro inks on a 7880 (using PK HD ink) are correct. Here is a screen shot of the setup: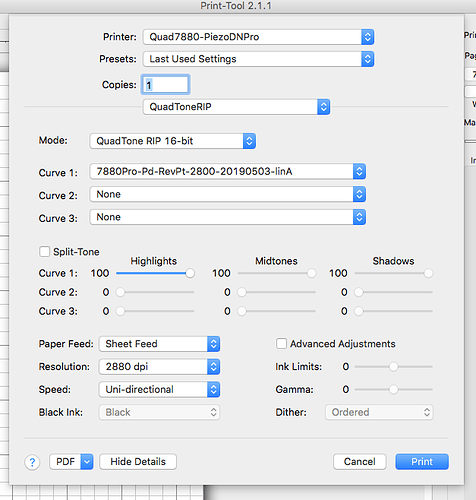 I have been working with gum over Pd. and discovered that I need to preshrink my paper in order to maintain registration when doing the subsequent gum layers. I have done testing and determined that two one hour hot water baths (bath, dry 24 hours, 2nd bath, dry 24hours; ready for Pd.).
I discovered that after this preshrinking the Dmax has changed for the Pd. print (gone done). The only difference is the paper has been preshrunk.
Here is the data: paper is Revere Platinum. I use pipettes to measure chemistry. Pd to FOx to T20/10% to 1.25% Na2 ratio is 1 to 1 to .1 to .05. For example when exposing a 21 step Stouffer step chart my chemistry mix is 250 ul of Pd., 250 ul of FOx, 25 ul of T20/10% and 12 ul of 1.25% Na2. With this chemistry mix on Revere Pt. paper I am getting a Dmax of 1.34.
Using preshrunk Revere Pt. paper my Dmax is 1.23. (I also had to increase my exposure amount to get a maximum black for this paper.)
I develop in room temp (~68F) KO. I use a Nuarc metal halide exposure unit with the PPM2 to "time" my exposures. With these tests my studio RH has been no less than 45% (as high as 55%). I rod coat. Air dry for 5 minutes, heat dry for 5 minutes, then "relax" the coated paper in a sealed water humidity tank for 10 minutes; then expose.
I am thinking that the hot water baths are removing the internal sizing from the mill and perhaps even changing the pH of the paper thus effecting the Dmax.
If you have any thoughts on this I would appreciate it but I really just want to check to insure my QTR settings in PiezoDN workflow are correct.
thanks!
Michael