As usual, I'm having a difficult time linearizing a quad for New Cyanotype (I do a complete re-linearization every time I make a new batch of sensitizer). After a couple of iterations, my curve is close to linear, but the negative appears to need a bit more density throughout. Here's the smoother curve: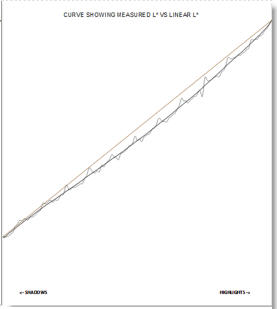 To my eye, the 129-step target looked beautiful. I was surprised to see that it was still too dark.
Here is my question: if I use this curve together with an icc profile (QTR-Create-ICC), can I deal with the lack of linearity by adjustments to the tone curve during soft proofing?
If I do another iteration of linearization, I run the risk of QTR-Linearize-Quad adding too much density, flipping the smoother curve to the other side of the line. This is a problem with New Cyanotype. It is very sensitive to slight variations in darkroom variables.