Hello,
For a second 'opinion'/'view' on first results cyanotype / base exposure and limiter I have two questions.
set-up
Bergger Cot 320.
Bergger's Cyantopye Kit - I assume this is the 'old process'.
UV Exposure Unit with Verified 365 nM UV Leds (Type 1).
LED strips aligned 3 mm apart.
Distance between LED's and film/paper; +/- 12,5 cm (or +/- 5 inch).
Contactframe.
Base Exposure Time; 15 minutes after several test.
Patch 0 on teststrip; not exposed
Patch 15 on teststrip; exposed during 20 minutes
Interval is 80 seconds.
(left side of the print out is covered with the Pictorico UP OHP film)
→ OK for the 15 minutes Base Expousre Time?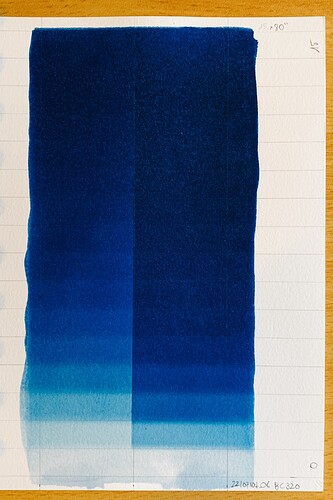 Limiting; yes or no
Printed the target (256 patches) on Pictorico UP OHP film.
Contact printed with paper, products and exposed during 15 minutes.
The first patch where there is a little tone in, is somewhere around 245 (see pictures).
→ So, based on the explanation in the PiezoDN Manual (thanks Walker) limiting the curve is not necessary or required?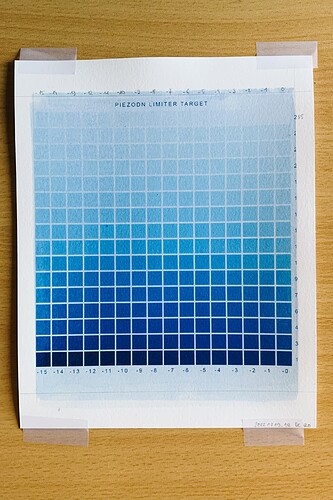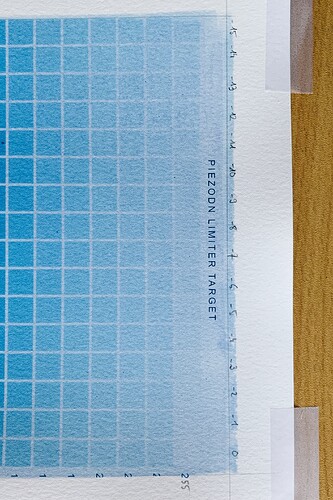 Thanks.
Peter